KBD Promotional Spot
PRESS RELEASE
PRO HOME SOLUTIONS HELPS LEADS $15K FUNDRAISER FOR HOPE UNITED METHODIST CHURCH
Pro Home Solutions LLC, an Iowa City based house flipping company, is responsible for leading a fundraiser that raised $15,000 for Hope United Methodist Church in Iowa City.
Iowa City, IA (July 15, 2009) -- Pro Home Solutions LLC, a local house-flipping company, owned by Jay and Michelle Provorse, recently donated $15,000 to Hope United Methodist Church after spearheading a flip-that-house fundraiser.
Pro Home Solutions LLC purchased a property in January 2009 with the intent of flipping it as a church fundraiser.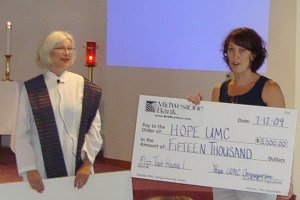 Flip Bucks were used as a way to track volunteer hours. For every volunteer hour, Pro Home Solutions donated $50 to the church. Church members worked to achieve 300 volunteer hours over the course of several months, earning the $15,000.
"This was such a great opportunity for us to use our skills and come up with a creative fundraiser for our church" Michelle says. "We wanted to do something where everyone had a chance to participate. They all did a great job."
Projects available to the volunteers included painting, cleaning, yard maintenance and landscaping or bringing food and drinks to those volunteering, to name some examples.
For more information about this press release, contact Scott Kieffer, Treasurer, Hope United Methodist Church, 2929 E. Court St., Iowa City, IA 52245, 319-338-9865.
About Pro Home Solutions LLC:
Husband and wife team Jay and Michelle Provorse are Pro Home Solutions LLC. The couple purchases and renovates homes in the Iowa City area. Pro Home Solutions LLC was founded in 2006.